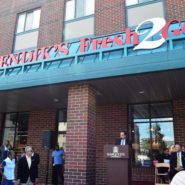 Sendik's Food Market opened a Fresh2Go store on Marquette University's campus on Tuesday.  The Fresh2Go store is a smaller-format supermarket that will serve a community of students and neighborhood residents that have been waiting for a place to shop for fresh produce and other food offerings.
Sendik's and Marquette held a well-attended grand opening ceremony featuring the Balistreri family, Milwaukee Mayor Tom Barrett, Alderman Bob Bauman and Marquette president Mike Lovell.
The 4,800 square foot food market is fully stocked with a salad bar, sushi bar, olive bar, and floral, bakery and produce departments.
Continue Reading...