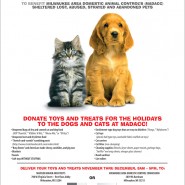 Madisen Maher Architects (MMA) is sponsoring its first "Presents for Pets" donation drive to benefit sheltered dogs, cats and other animals that have been lost, abused, strayed or abandoned, who are now cared for by Milwaukee Area Domestic Animal Control Commission (MADACC).  "Our goal is to give these pets the gift of toys and treats this holiday season, with the additional hope that people will foster or adopt a pet of their
own," says Erik Madisen, principal at Madisen Maher Architects.
The Wish List includes:
• Unopened bags of dry and canned cat and dog food – (NOT Beneful, Kibbles N Bits,
Meow Mix or Ol Roy)
• Unopened wet and dry kitten food
• "Stretch and scratch" scratching posts (http://www.stretchandscratch.com/order.html)
• Busy Bones and American made chewy, rawhides, and pig ears
• Blankets
• Towels
• Soft toys WITHOUT STUFFING – called "unstuffed"
• Enrichment-type dog toys that are easy to disinfect (for example: Kongs,
Nylabones)
• Cat toys (plastic ball type toys, washable fabric stuffed cat toys)
• Cat carriers
• Cat litter (non-clumping)
• Cleaning supplies (bleach, dryer sheets, paper towels, garbage bags, Swiffer
Wet mop sheets, vinegar glass cleaner)
• Hand sanitizer
• Lint rollers
Toys and Treats can be dropped off throughout November and December, 2015, Mondays through Fridays, 8A – 5P at:
MADISEN MAHER ARCHITECTS, 700 W. VIRGINIA STREET, MILWAUKEE, WI 53204 IN THE CONTAINERS LOCATED ON THE FIRST FLOOR IN THE LOBBY
OR
MILWAUKEE AREA DOMESTIC ANIMAL CONTROL COMMISSION, 3839 W. BURNHAM, MILWAUKEE, WI  53215
 For further information, contact Kathy Shillinglaw at 414-649-8640 or kshillinglaw@madacc.org, or contact Jean Radtke at 414-531-3187 or jradtke@phoenixmgi.com.