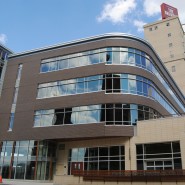 Madisen Maher Architects (MMA) congratulates client Klement Sausage Company on their move to the Pabst Professional Center in early 2016.  MMA is designing Klement's new headquarters which will occupy the fourth floor of the center, located at 1036 W. Juneau in downtown Milwaukee.
The Pabst Professional Center is a 40,000 square foot, Class A building with LEED Neighborhood Development (LEED-ND) Stage 2 pre-certified Platinum status due to its focus on smart growth, urbanism and green building. The new location will house the majority of Klement's executive team as well as sales, marketing, finance, IT, planning and customer support staff.
For more information, please visit Press Releases at http://www.klements.com/media.