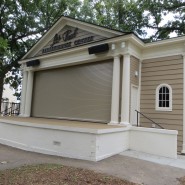 The City of Waukesha hired Madisen Maher Architects (MMA) for architectural design to breathe new life into an old band shell, now the home of the Les Paul Performance Center.  The Center, at 321 Wisconsin Avenue, in Waukesha, Wisconsin, opened in June and features performances from a wide variety of artists Tuesday nights and hosts the Waukesha Civic Band on Thursday nights.
Les Paul, known throughout the world for the development and perfection of the first solid body electric guitar, otherwise known as the Gibson Les Paul, would have celebrated his 100th birthday on June 9, 2015.
Madisen Maher Architects facilitated planning with various user groups, to discuss building/structural, aesthetics, lighting, sound and cultural needs.  The purpose of the project is to expand usability and flexibility of the Performance Center and preserve the legacy of Les Paul, a native of Waukesha.  The City of Waukesha promotes Les Paul through the Performance Center, a number of oversized Gibson guitars, Murals, and a Les Paul monument.
The remodeled building has been designed to accommodate a multitude of events including weddings, parties, theater groups and others needing a stage.