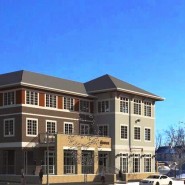 Madisen Maher Architects was hired by Co-partners Gary Lewis and Andrea Mayerson to design their Thiensville Integrative Health Alliance building – a three-story, mixed-use Health and Wellness facility.
The first floor will house mercantile tenants that complement the upstairs medical practices on the second floor including physical therapy, chiropractic, massage, psychotherapy and acupuncture.  The third floor is proposed to have a conference center, workshop, exercise space and miscellaneous rental space.
It's been a life-long goal of Dr. Lewis to have an integrative medical clinic where complementary tenants can offer people all the therapies and products available in one facility.
Team:
Madisen Maher Architects
McGuire Contractors – Construction Manager / General Contractor
Ellena Engineering – Civil Engineering
Pierce Engineers – Structural Engineering
Retailworks – Interior Design